About us
Dr. Patangrao Kadam Mahavidyalaya, Sangli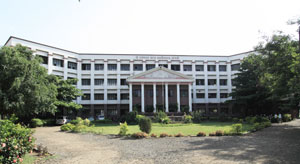 The College was established on 16th September 1985, as Arts, Science and Commerce College, Sangli, and it was renamed as Dr. Patangrao Kadam Mahavidyalaya, Sangli on 8th January 1999. This is the only college in the city, which imparts education in all the four facilities-Arts, Science, Commerce and Computer Science. The college boasts of a spacious, beautiful building costing more than Rs. 2 Crores. To widen the horizon of education, the junior wing of the college in Arts and Science faculties was introduced in June 1990. Four vocational courses at +2 Level were introduced in 1994 and B. Com. with Computer Application in June 1998. It was followed by B.C.S. as a degree in computer Science in 2001. To guide and inspire the potentials in the students, various co-curricular activities are carried out in the college. The college was granted permanent affiliation in the year 1997, by Shivaji University, Kolhapur and was listed under 2(f) and 12 (B) of the UGC Act. In 1997-98. The college received UGC grants worth Rs. 55 lakhs during the IX plan and Rs. 14 lakhs as developmental grants initially sanctioned in the X Plan. The college has received an amount of Rs. 87,17,470 from the management uptill now.
The motto of our parent institution, 'Social Transformation Through Dynamic Education', encompasses goals like achieving the social, economic and political transformation of the society. It is the responsibility of the college to achieve these goals to improve the academic standard of students, promote computer literacy and create social awareness regarding health, hygiene and environment. By providing adequate and modern educational facilities to the rural youth, the college is trying to bridge the disparity between the rural and urban culture and to create awareness against discrimination in caste, creed and gender.
It is a matter of pleasure and pride to record that the NAAC Committee of Bangalore assessed the College and accredited it B++ grade.
In 2005-06, our college has been selected as a "Lead College" by Shivaji University, Kolhapur.
Computer Science has been introduced as a subject for B. Sc. Since June, 2005.
From 2006-07, Six Career Oriented Courses (financed by U.G.C.) have been introduced in the college.
In March 2007, UGC sanctioned Rs. 80 Lakhs for the construction of Women's hostel, in the college premises for the benefit of girl students.
in Second cycle of NAAC Committee of Bangalore assessed the College and Reaccredited it "A" grade in 2012.
College completed 30 years in 2015.
In 2016-17, our college has been reselected as a "Lead College" by Shivaji University, Kolhapur till 2018-19.
Dr.Patangrao Kadam Mahavidyalaya,Sangli Ranked in top 100 colleges in Maharashtra by Careers 360 Magzine.