About us
Dr. Patangrao Kadam Mahavidyalaya, Sangli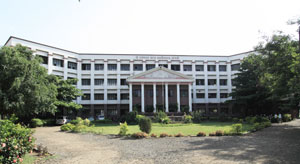 Bharati Vidyapeeth is one of the leading educational institutions in India; founded by great visionary, Honorable Dr. Patangraoji Kadam. Bharati Vidyapeeth, Pune, was established in 1964, as a result of his far sightedness and determined efforts. Within a short span of fifty three years, under his dynamic and visionary leadership, Bharati Vidyapeeth has taken huge strides, in the field of education. BharatiVidyapeeth has more than one hundred and eighty educational branches, imparting education from the pre-primary to the post graduate levels. It stands dignified, imparting education in a wide array of disciplines like medicine, engineering, pharmacy, agriculture, architecture, law, management, fine arts, biosciences, biotechnology, environmental science, arts, science and commerce. To make education available to the deprived and backward, a large number of schools have been set up in rural as well as urban areas.
Bharati Vidyapeeth was founded with the sole objective of making education available to the desired! It is one of the very few multi-disciplinary deemed universities of our country.
Bharati Vidyapeeth has commendable contributions, towards the empowerment of women, the needy and the rural youth!
The motto of Bharati Vidyapeeth is 'Social Transformation through Dynamic Education'.
Our college, Dr. Patangrao Kadam Mahavidyalaya, was established on 16th September, 1985, as Arts, Science and Commerce College, Sangli and it was renamed as Dr. Patangrao Kadam Mahavidyalaya, Sangli, on 8th January 1999. The college has a spacious and beautiful building, with well-equipped laboratories, classrooms, ICT enabled classrooms, auditorium, two open stages, Landscape garden and a playground. This is the only college in the city which imparts education in the faculties of Arts, Science, Commerce, Junior College and H.S.C. vocational.
To widen the horizon of education, the junior wing of the college in Arts and Science faculties was introduced in June 1990. Four vocational courses at +2 level were introduced in 1994 and B.Com. with Computer Application in June 1998. It was followed by B.C.S. as a degree in Computer Science in 2001. Computer Science has been introduced as a subject for B.Sc. since June, 2005.
To guide and inspire the potentials in the students, various co-curricular activities are carried out in the college. The college was granted permanent affiliation in the year 1997, by Shivaji University, Kolhapur and was listed under 2(f) and 12 (B) of the UGC Act in 1997-98. The college received UGC grants during the IXth, Xth and XIth plans, which helped in enhancing the equipment and other attributes of the college. The college has received UGC grants worth approximately Rs.3 crores till now.
The motto of our parent institution, 'Social Transformation through Dynamic Education', encompasses goals like achieving the social, economic and political transformation of the society. It is the responsibility of the college to achieve these goals to improve the academic standard of students, promote computer literacy and create social awareness regarding health, hygiene and environment. By providing adequate and modern educational facilities to the rural youth, the college is trying to bridge the disparity between the rural and urban culture and to create awareness against discrimination in caste, creed and gender.
From 2006-07, six Career Oriented Courses (financed by U.G.C.) and from 2008, two Career Oriented Courses (financed by U.G.C.) have been introduced in the college.
In March 2007, UGC sanctioned Rs.80 Lakhs for the construction of Women's hostel, for the benefit of girl students, which has been constructed in our sister campus of Bharati Vidyapeeth's Medical College, Sangli. In 2016-17, our college has been selected as a "Lead College" by Shivaji University, Kolhapur, for two academic years, for the second time, taking into account our academic, social and sports achievements.
Dr.Patangrao Kadam Mahavidyalaya, Sangli has been placed in top 100 ranking colleges in Maharashtra, by Careers 360 magazine.
It is a matter of pleasure and pride that the NAAC committee accredited it with "B++" grade, in January 2004 and "A" in January 2013. We are the proud recipients of the Maharashtra State Award for our substantial work through N.S.S.
Moto:
Social Transformation through Dynamic Education.
Vision:
To empower the youth to face global Challenges
Mission :-
To provide advanced educational facilities and access to information.
To bring about intellectual awakening.
To impart value based education.
To create society based on the principles of equality and social justice.
To bridge the gaps between the rural and urban.
To empower the women to face the challenges of the new era.
To create an awareness about the environment.