Principal's Message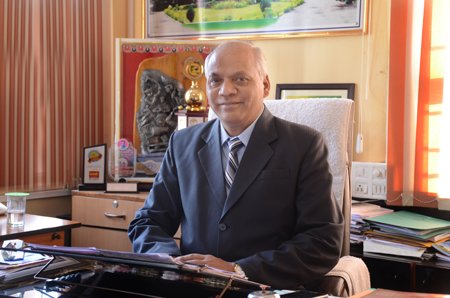 It is my great pleasure and pride to the principal, for the second time,of the Bharati Vidyapeeth's Dr. Patangrao Kadam Mahavidyalaya, situated in a close vicinity of the sacred Krishnamai ,on the outskirts of the Sangli,and affiliated to Shivaji University ,Kolhapur.It has received a hallmark of quality and excellence in the higher education as it has been reaccredited with 'A' grade by the NAAC, Bangalore,and, also honoured with a special award by Government of Maharashtra for it's substantial contribution through NSS.

Hon.Dr.Patangraoji Kadam ,the founder chancellor of Bharati Vidyapeeth and Hon. Dr. Vishwajit Kadam , the Secretary believe that a spread of higher education among masses will really bring about social , economic and cultural transformation in the rural people in our country.

This college is hub of learning that provides knowledge to the Arts, Commerce,Science and Computer degree students. There are separate departments in English,Economics , Political Science, Computer Science , Physical Education,Geography , Chemistry , Microbiology,Physics,Statistics, Zoology, Botany and P.G. Section in Analytical Chemistry. Moreover, There are career oriented courses like Personality Development and English Communication Skills, Rural Journalism, Tourism, Dress Making and Fashion Designing, Medical Lab Technology, Water and Soil Analysis,Vermiculture and Vermicomposting, along with a Junior wing in Arts, Science and Vocational Studies.

The Science Laboratories , the research laboratory of Chemistry , the Computer Laboratory the Language Laboratory, The Green House, The Advanced Sports Equipments, The rich Library , The Spacious reading Hall, The Large Playground and the huge college building are the attractions here.

Most of the students are from rural area , a specially from Socially and economically weak families. They are given concession and freeship in their fees. Otherwise, They may not defray the expense and will be deprived of higher education. It is here we differ from others that we give admissions to almost all those who are denied or likely to be denied admissions at other colleges doe to low merit.

Our teachers take strenuous efforts that such mediocre students secure first class and distinction at the final examination of their degree courses. Some of them stands in the merit list of Shivaji University . Some win prizes for their creative writings in the 'Dnyanbharati'- Our college periodical. our teacher strive for their intellectual and emotional enrichment so that they will face competitive exams and global challenges successfully.

As the Principal, I motivate my Collegues to be research oriented and innovative. I feel they should become a friend, philosopher and guide to the learners. They should make them aware of their abilities and latent talents , human values and universal brotherhood.
With warm regards,
Prin. Dr. D. G. Kanase